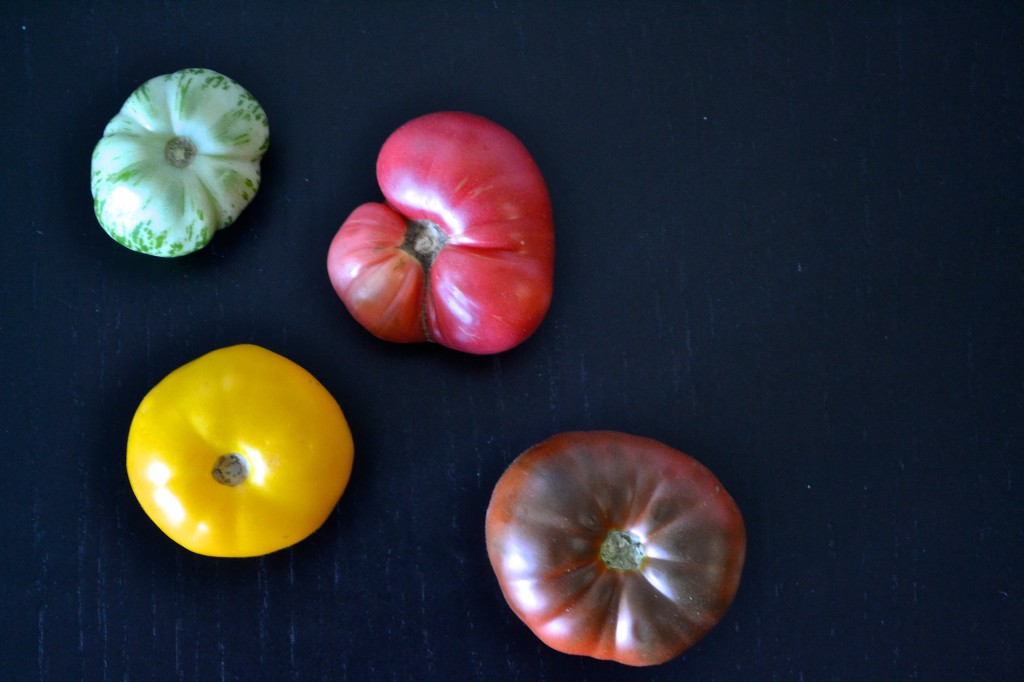 And just like that, the seasons seem to click and we can feel autumn impending upon us with all the subtlety of a thousand bricks. It screams from every store where all baked goods and coffee drinks are magically amenable to being pumpkin-spiced. It begs to be noticed among the racks of nail polish in darker, bolder colors and from the tempting store windows where cozy scarves and sweaters are adamantly displayed despite the staunch opposition bellowing 90 degree weather from the asphalted streets. I feel, lately, much like that moment when I'm in a restaurant and the waiter, in the spirit of good service, tries to take away my plate and I lunge at those last few bits of french fry. "Wait, I'm not done yet!" I proclaim. That's how I feel about summer this season. I'm not done yet and I eagerly slurp up every last bit of warmer days and longer evenings, billowy dresses, sandals, and the last summer bounty.
I feel I rather cheated myself by not jumping on the tomato bandwagon sooner. I've always regarded these plump specimens with some skepticism. Are they fruit or veggie? Why do they insist on being flavorless? How can I avoid the off-putting squirt and slightly slimy gooey texture of the innards? However, despite the rocky past relationship, I decided to give tomatoes another go. I sprang for some beautiful heirloom tomatoes because, I reasoned, something so weirdly beautiful deserves a second go. I'm so glad I did. While the generic grocery store tomatoes have the tendency to be bland, flavorless, and mealy, a truly good tomato is none of these things. So much so that all you need is a good sprinkling of sea salt, pepper, maybe some good olive oil, and you are in business. I always knew I was a creature of habit but I was reminded again how much so when I realized I had eaten the same thing for lunch for two weeks straight. What can I say? When something works and makes me happy, I have all the elegance of a recalcitrant child when it is time to move on. I'm sure I'll feel the same way when the seasons click again and winter rolls around and pumpkins and apples are replaced by twinkly lights and peppermint. For now, I savor these last dregs of summer.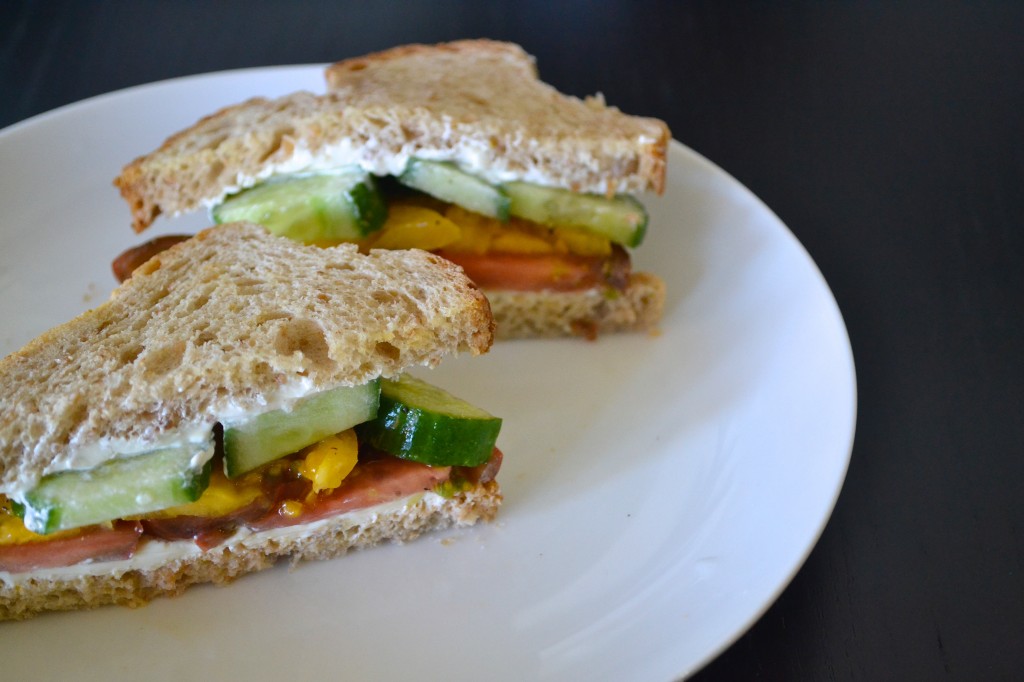 Summer sandwich
This sandwich was loosely inspired by the classic tomato sandwich (did anyone else read Harriet the Spy?) and the traditional bagel, cream cheese, lox, tomato, cucumber combo. It is also delicious with mayonnaise instead of cream cheese. I suggest salting the tomatoes and letting them rest a bit to get rid of some water – it makes for a better textural experience. I did not do so because I had forgotten to eat that day and whipped this up at 3pm and gobbled it down before it had a chance to think about getting soggy.
Ingredients
2 small heirloom tomatoes
1 persian cucumber
cream cheese
2 slices sourdough bread
sea salt
freshly ground black pepper
Directions
Slice tomatoes and cucumbers. Salt tomatoes and let rest.
Toast bread to your liking and spread a light layer of cream cheese on each slice.
Place tomatoes and cucumbers on bread. Salt and pepper to taste. It doesn't need much.
Slice in half if you'd like. Enjoy the leftover tomatoes and cucumbers on the side with salt, pepper, and a slick of olive oil. It makes a nice side salad addition.